Modern doors are becoming increasingly popular among homeowners and interior designers. They offer a unique look and feel that can complement any home style, from minimalist to industrial. If you're looking for a new door to enhance the look of your home, a modern door may be just what you need.
Modern doors offer several benefits, including improved security, energy efficiency, and noise reduction. Additionally, they are available in various styles, materials, and features, allowing you to customize them to suit your specific needs and preferences. This article will provide an overview of modern doors and helpful tips for choosing the right one for your home.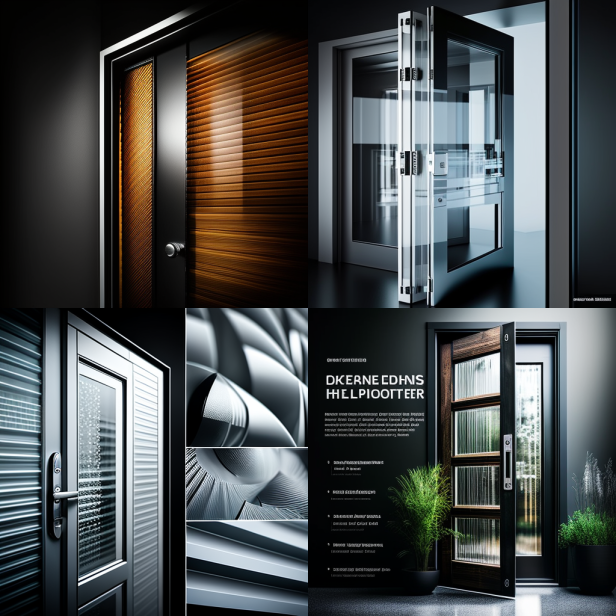 Types of Modern Doors
A. Materials
Modern doors can be made from various materials, including wood, glass, metal, and composite materials. Each material has unique characteristics, depending on your style and functional needs. For example, a metal door may be your best option if you want one that offers maximum security. On the other hand, if you're looking for a door that lets in plenty of natural light, a glass door may be more suitable.
B. Features
Modern doors come with various features designed to enhance their functionality and style. Some of the most popular features include built-in blinds or shades, advanced locking mechanisms, and energy-efficient glass. Other features to consider is have soundproofing, fireproofing, and insulation.
C. Styles
There are several modern door styles to choose from, including sliding doors, barn doors, pivot doors, and French doors. Sliding doors are ideal for homes with limited space, while barn doors offer a rustic and trendy look. Pivot doors are a great choice for those who want to make a statement with their entrance, and French doors are a classic option that can add elegance and sophistication to any home.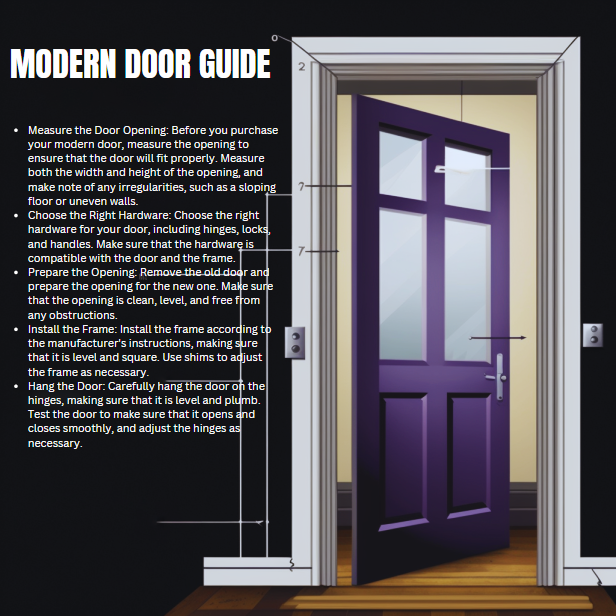 Modern Door Installation
A. Steps
Installing a modern door requires a few steps to be followed carefully to ensure a proper and safe installation. The steps include measuring the door opening, choosing the right hardware, preparing the opening, installing the frame, and hanging the door. Hiring a professional installer is important to ensure the job is done correctly.
B. Tips
When installing a modern door, there are a few tips to remember. First, choose a door that fits the style and architecture of your home. Second, select the right hardware, such as hinges and locks, to ensure the door operates smoothly and securely. Third, consider the door swing and the space around it to ensure it won't hit furniture or walls when opened.
Trends in Modern Doors
A. Latest styles
The latest styles in modern doors encompass clean lines, minimalistic designs, and bold colors. Specifically, matte black is a popular color choice for modern doors, which adds a dramatic touch to any space. In addition, other popular styles include doors with textured glass, geometric patterns, and asymmetrical designs.
B. Popular materials
The most popular materials for modern doors include wood, metal, and glass. However, new materials such as composite and engineered wood are also gaining popularity due to their durability and affordability.
C. Modern Door Trends for 2023
While it's difficult to predict exactly what will be on-trend in 2023, experts predict that modern doors with eco-friendly features, such as recycled or sustainable materials, will continue to gain popularity. Additionally, doors with smart technology, such as keyless entry and remote control, are expected to become more common in modern homes.
Conclusion
Modern doors offer a unique and stylish look that can enhance the aesthetic appeal of any home. When choosing a modern door, consider your style and functional needs, and choose a material, feature, and style that suits your preferences. With the right door, you can add security.