Ready to transform your kitchen into a luxurious, modern space? Check out these 10 stunning ideas featuring granite countertops that combine style and functionality. Get ready to discover design inspiration, practical advice, and resources for creating a beautiful modern kitchen with granite countertops.
1. Contrasting Colors: Make a Bold Statement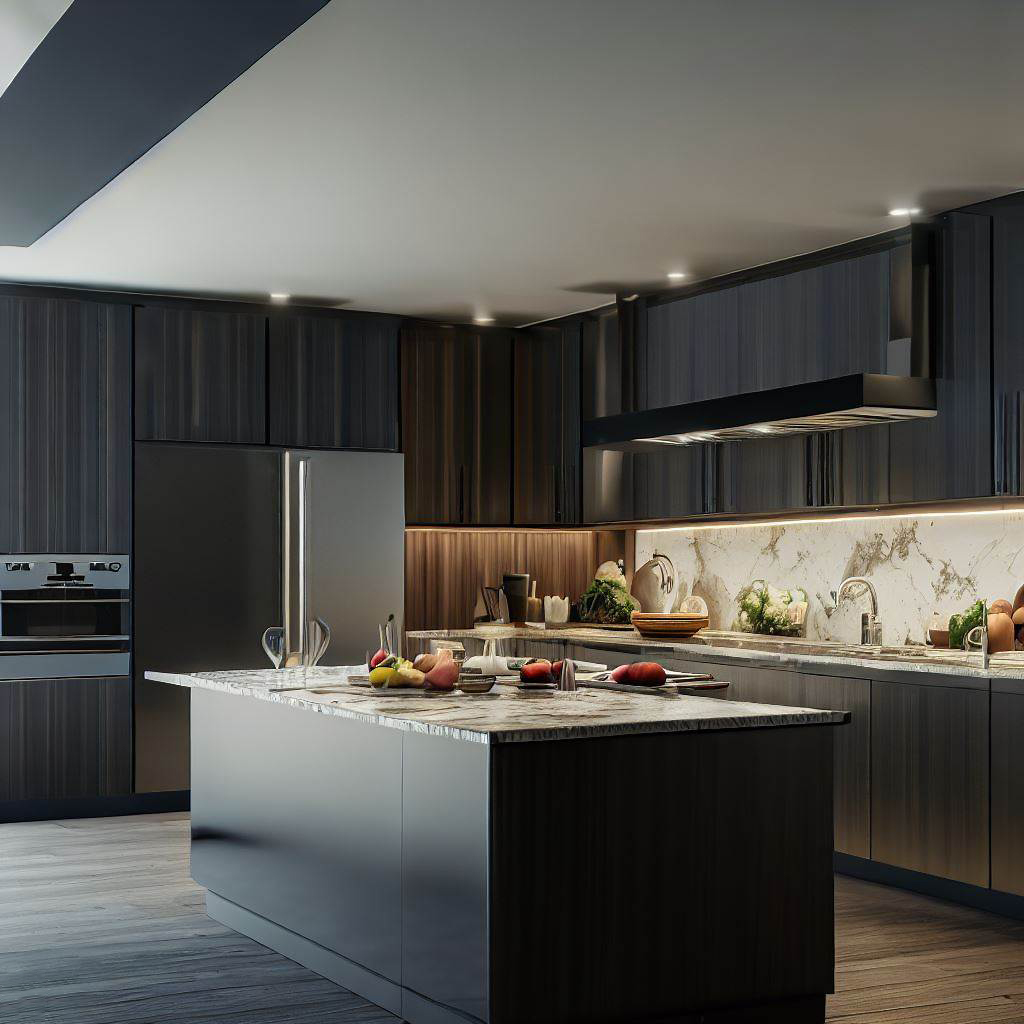 Create a striking visual impact using contrasting colors for your granite countertops and cabinetry. Choose light-colored granite to pair with dark cabinets or vice versa, depending on your style. This bold combination will make your modern kitchen stand out and leave a lasting impression.
2. Waterfall Edges: A Touch of Elegance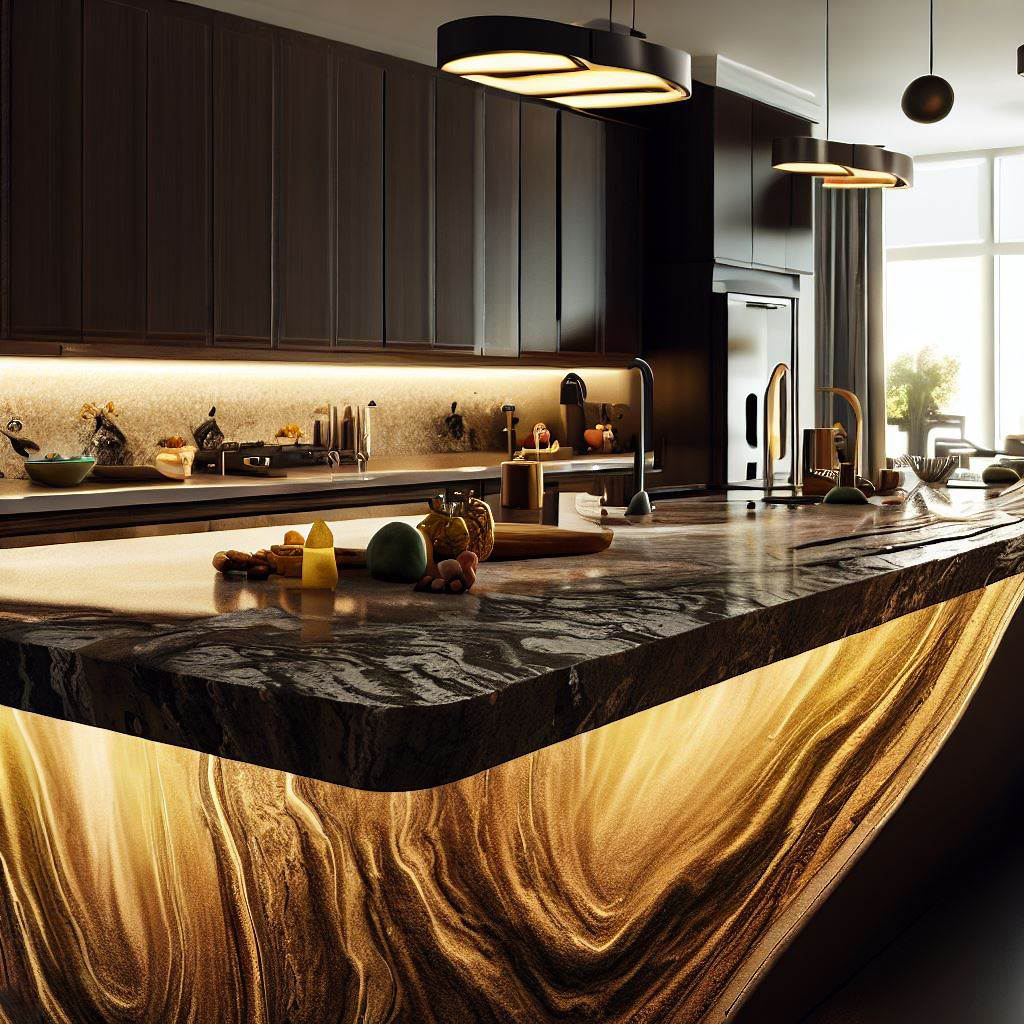 Waterfall edges are a popular trend in modern kitchen designs. They extend the granite countertop down the side of an island or cabinet, creating a seamless, flowing look. This elegant design not only adds visual interest but also protects the sides of your cabinetry from damage.
3. Integrated Sinks: Sleek and Functional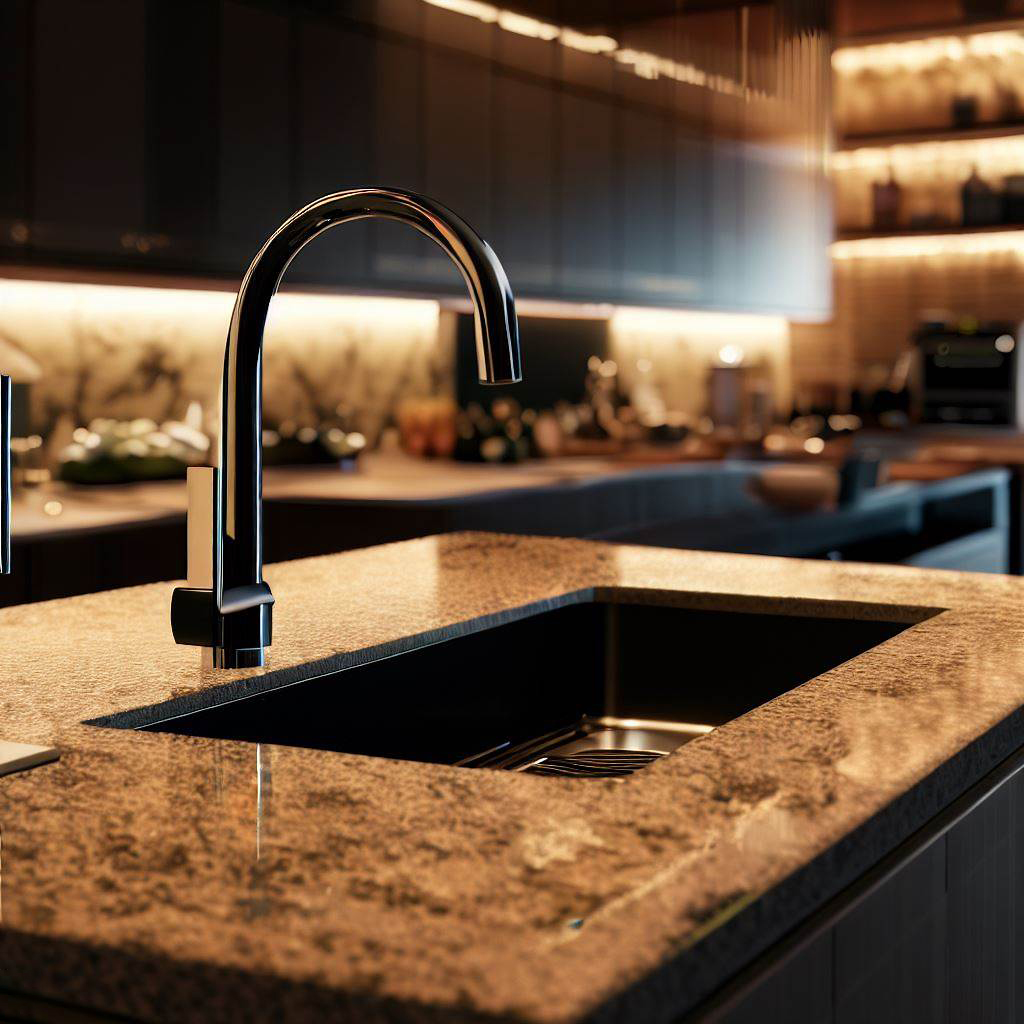 An integrated sink, also known as an undermount sink, is a great option for modern kitchens with granite countertops. These sinks are mounted below the countertop, creating a seamless transition between the sink and the granite surface. This design looks sleek and stylish and makes cleaning easier, as there are no visible seams where dirt and debris can accumulate.
4. Mixed Materials: Blend Style and Texture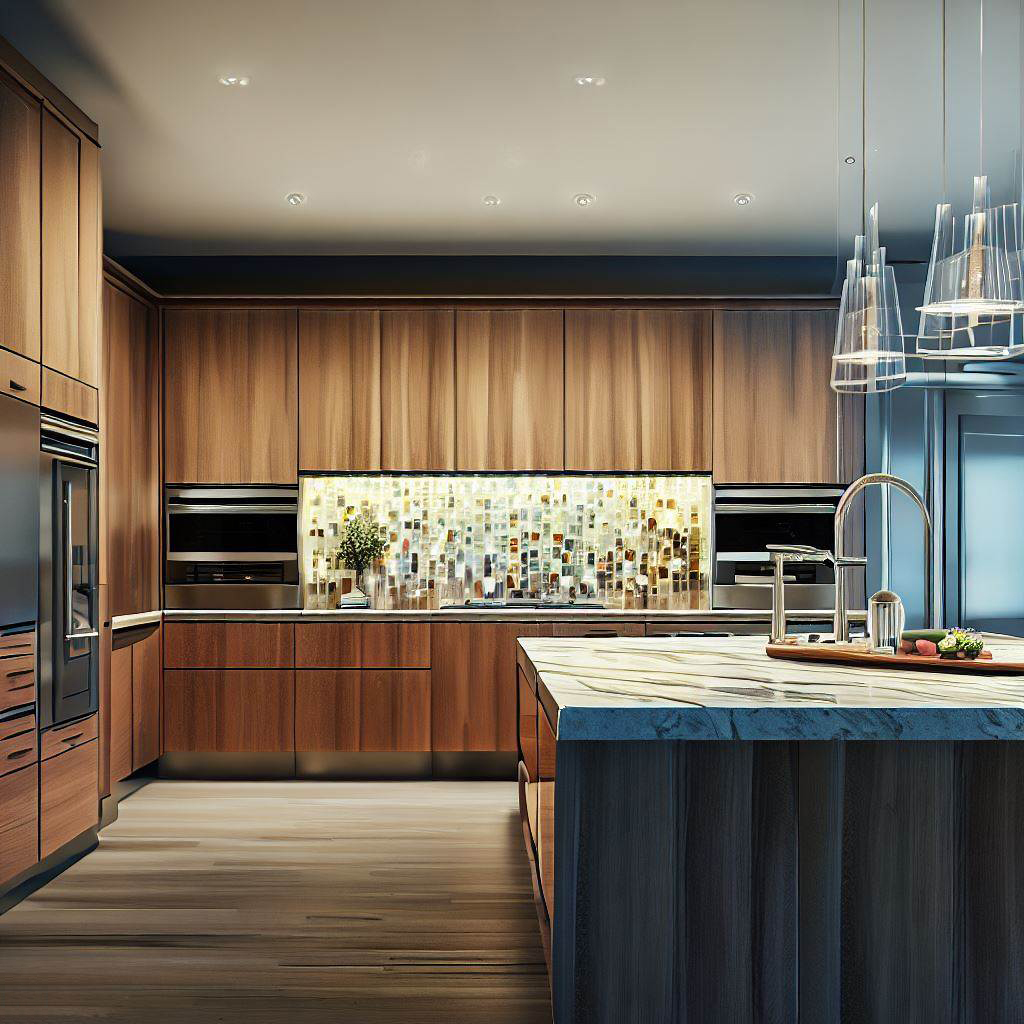 Embrace the combination of different materials in your modern kitchen to create a unique and visually appealing space. Pair your granite countertops with stainless steel appliances, wooden cabinetry, or glass backsplashes. This eclectic mix adds depth, character, and charm to your kitchen while keeping it functional and stylish.
5. Minimalist Design: Less is More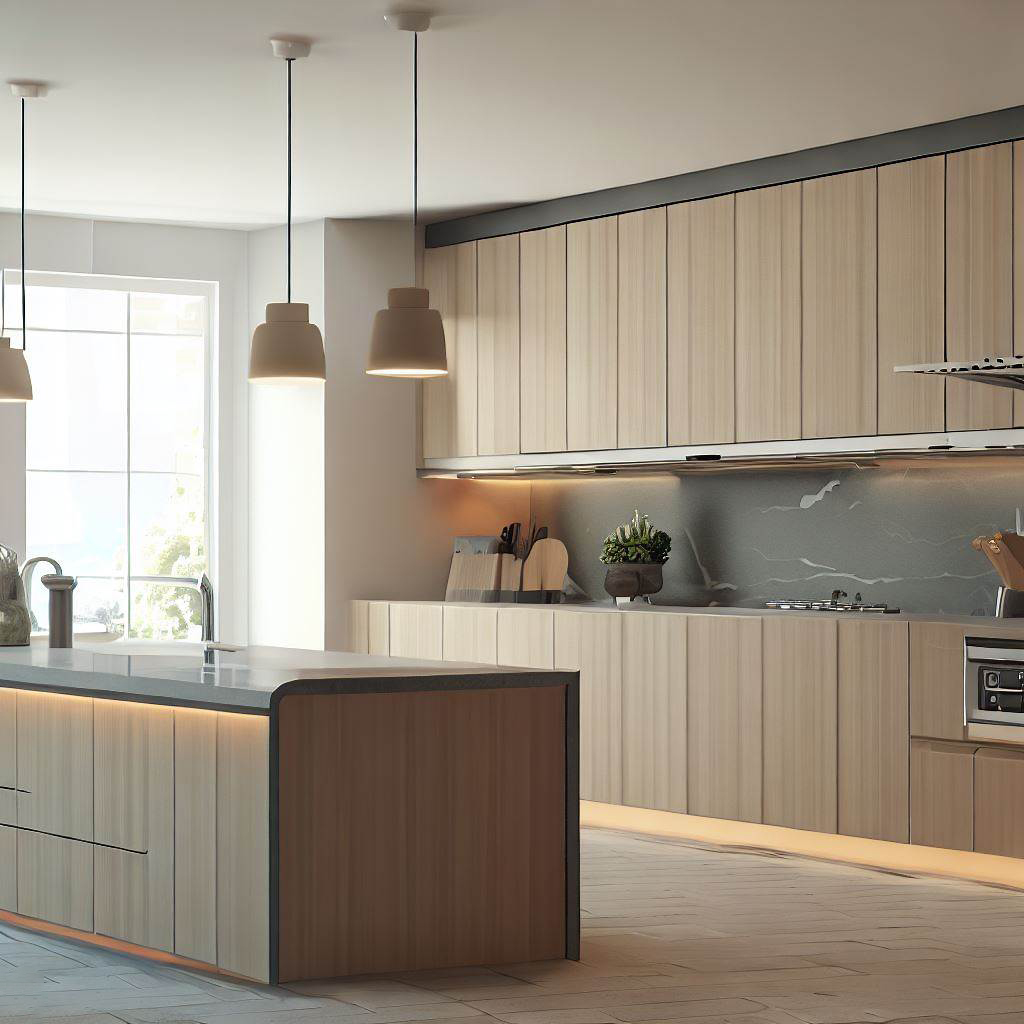 A minimalist approach to your modern kitchen design can create a clean, uncluttered, and calming space. Choose a simple color palette, sleek cabinetry, and understated hardware to complement your granite countertops. This design philosophy focuses on simplicity, ensuring that every element in your kitchen has a purpose and adds value.
6. Statement Backsplash: Add Personality and Flair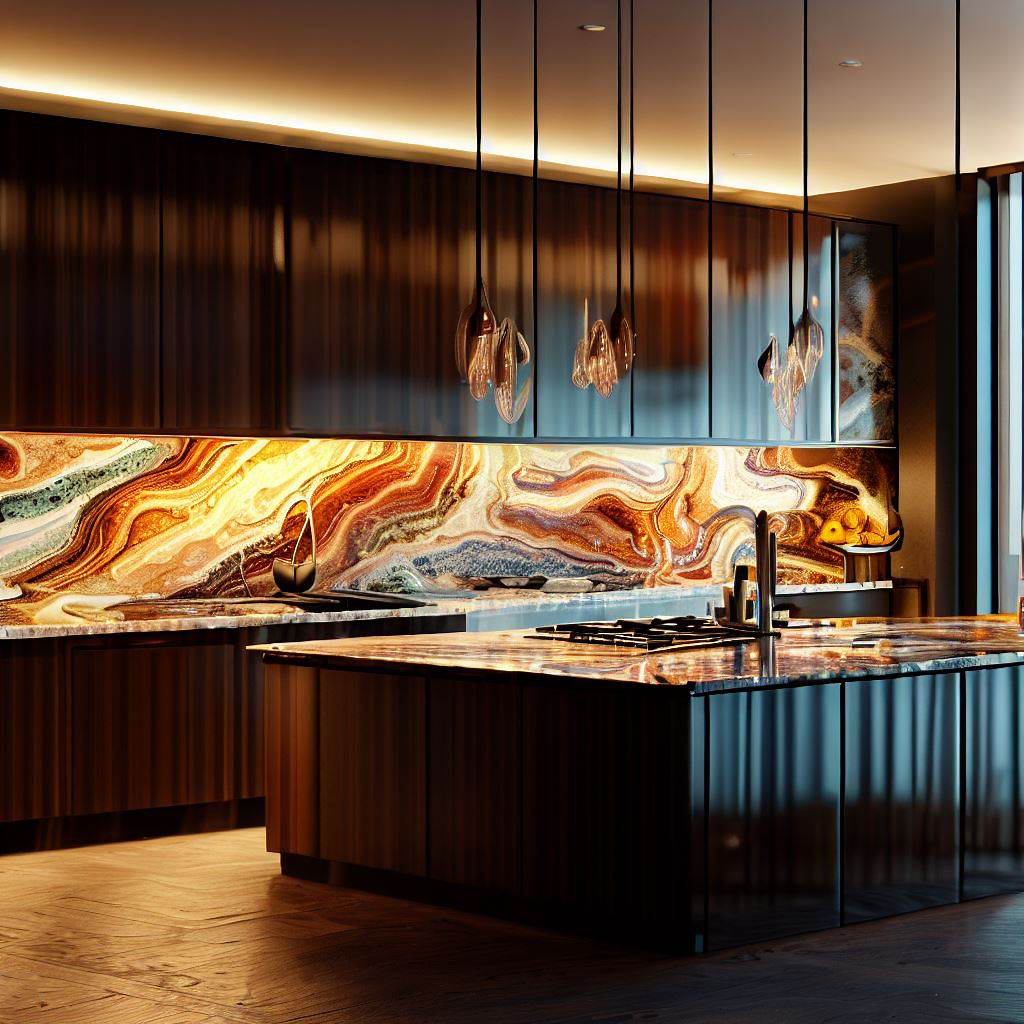 Make a statement in your modern kitchen with a bold and eye-catching backsplash. Opt for a unique material, pattern, or color that complements your granite countertops and adds visual interest to your space. This design element protects your walls from spills and splatters and adds personality and flair to your kitchen.
7. Open Shelving: Show Off Your Style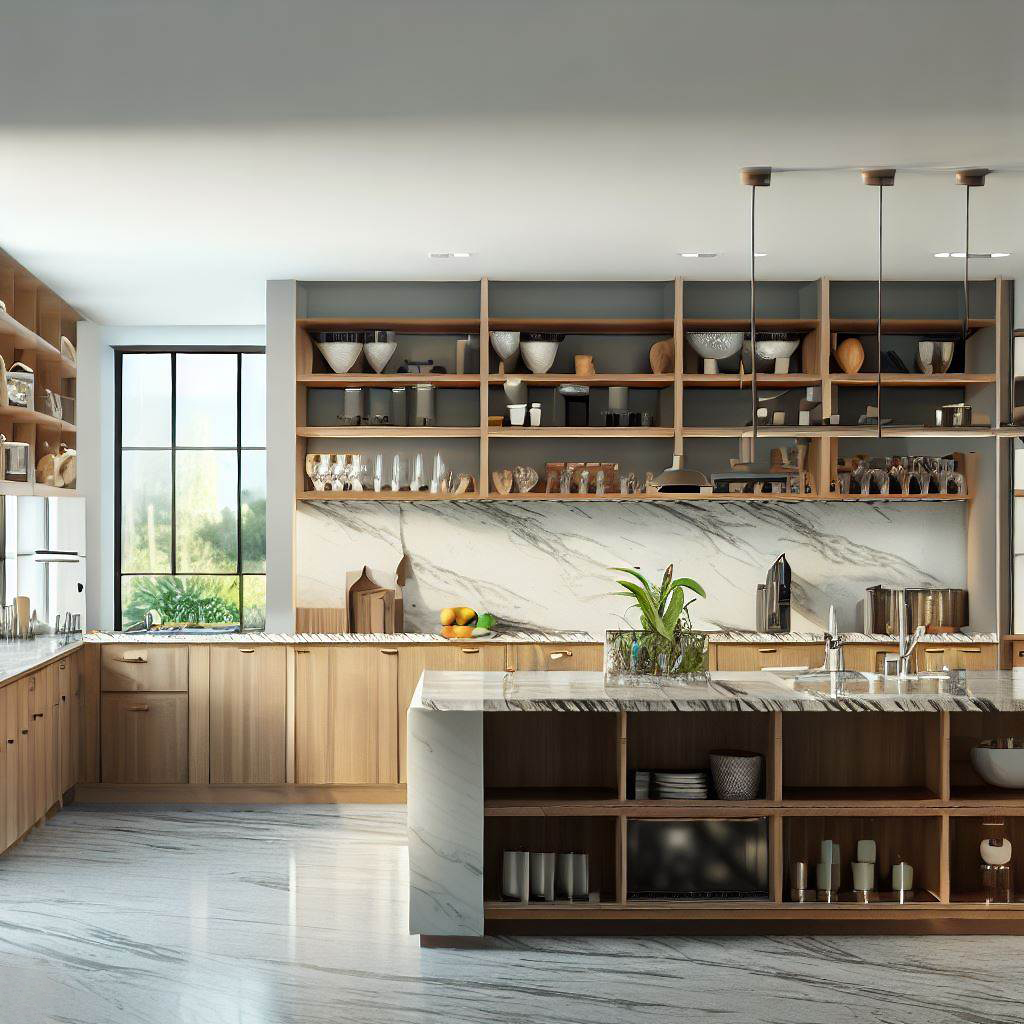 Incorporate open shelving into your modern kitchen design for a spacious and airy feel. Display your favorite dishes, glassware, or decorative items on open shelves, creating a visually appealing and functional storage solution. This design trend pairs well with granite countertops, adding a touch of warmth and personality to your contemporary space.
8. Kitchen Island: The Heart of Your Kitchen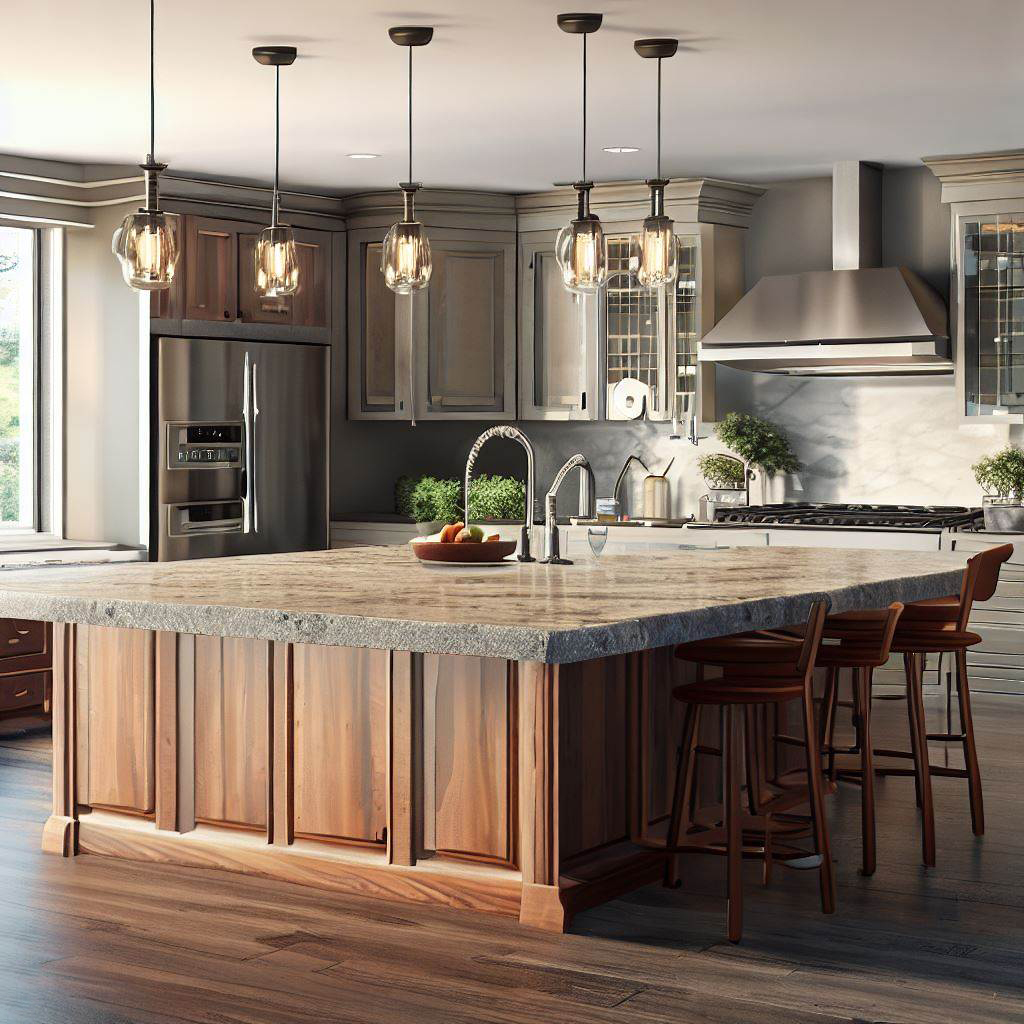 A kitchen island with a granite countertop is a versatile and practical addition to any modern kitchen. It provides extra workspace, storage, and seating, making it the heart of your kitchen. Customize your island to suit your needs and style, incorporating features like a built-in sink, cooktop, or wine fridge.
9. Pendant Lighting: Illuminate Your Space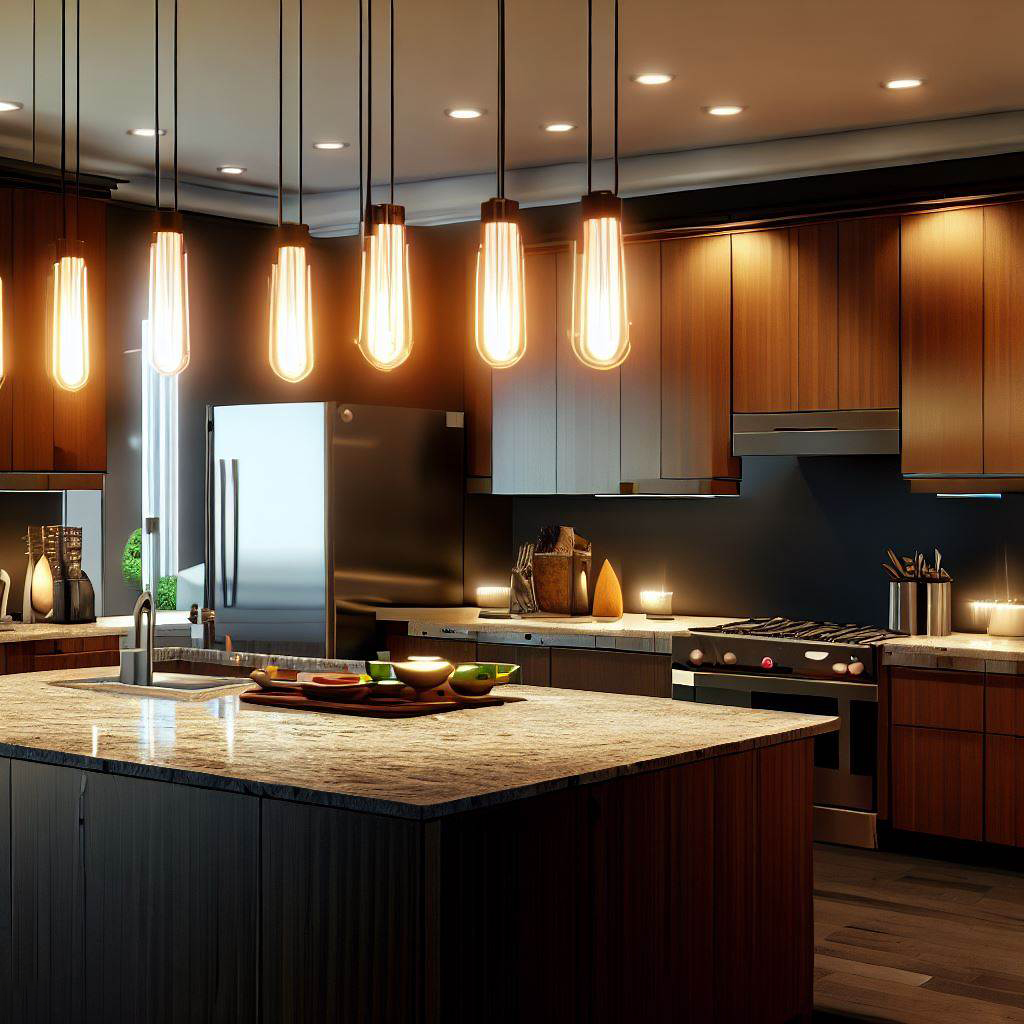 Pendant lighting is an excellent choice for modern kitchens with granite countertops. These stylish fixtures provide ample lighting for your workspace and add a decorative element to your kitchen. Choose pendant lights that complement the design and color of your granite countertops for a cohesive and visually appealing look.
10. Two-Tone Cabinets: A Unique and Stylish Look
Two-tone cabinets are a popular trend in modern kitchen design. This design uses two colors or finishes for your upper and lower cabinets. Pair this look with your granite countertops for a unique and stylish appearance that adds depth and visual interest to your space.
Source: Two-Tone Cabinet Design Ideas
Tips for Choosing the Right Granite Countertop
A. Color Selection
Picking the perfect granite color for your modern kitchen can be overwhelming due to the vast array of options available. Consider the overall design and color scheme of your kitchen when choosing granite. You can choose a contrasting color to make a bold statement or a complementary color for a cohesive look. Keep in mind that no two slabs of granite are identical, so variations in pattern and veining are to be expected.
B. Sustainable Options
Granite is a natural material, making it more eco-friendly than synthetic surfaces. However, the mining and transportation processes can have environmental impacts. Look for suppliers with sustainable practices to minimize the environmental footprint of your granite countertops.
C. Maintenance and Care
To maintain your granite countertops, clean them regularly using a mild soap or stone cleaner and a soft cloth. Avoid harsh chemicals or abrasive cleaners that can damage the surface. Seal your granite countertops periodically to maintain shine and protect them from stains.
Conclusion
Now that you have explored these 10 stunning modern kitchen ideas featuring granite countertops, you're well-equipped to embark on your kitchen renovation journey. By blending style and functionality, you can create a beautiful, inviting space where you'll love cooking, entertaining, and enjoying time with family and friends. Happy renovating!
Testimonial: 
"I recently renovated my kitchen, and I must say, the granite countertops have completely transformed the space. The design ideas presented in this article were incredibly helpful in making my decisions, and I couldn't be happier with the results. My kitchen now feels luxurious and modern, and the granite countertop is truly the centerpiece. Highly recommended for anyone looking to upgrade their kitchen!" – Sarah J., San Francisco, CA
Frequently Asked Questions
How much do granite countertops cost? Granite countertops typically cost between $40 to $200 per square foot, depending on the type and quality of the granite.
Is granite heat-resistant? Yes, granite is heat resistant and can withstand high temperatures without damage. However, it's still recommended to use trivets or hot pads to protect the surface.
Are granite countertops prone to staining? Granite is a porous material and can be prone to staining if not properly sealed. Regular sealing can help protect your countertops from stains.
How often should I seal my granite countertops? Sealing granite countertops every 1-3 years is generally recommended, depending on usage and the type of granite.
What are some alternatives to granite countertops? Some popular alternatives to granite countertops include quartz, marble, soapstone, and solid surface materials like Corian.
Once you've created your dream kitchen with granite countertops, why not explore more kitchen design and decor ideas? At ultimatedesigndecor.com, you'll find an array of inspiring kitchen design and decor ideas to elevate your home's style. Discover the latest trends, styles, and tips for creating a cohesive, inviting kitchen space that perfectly complements your modern taste. Visit us today and let your creativity flow!