Are you ready to take your living room to the next level? Look no further than brown tiles for your flooring. They bring warmth and style and offer a range of practical benefits that make them an excellent choice for any budget. In this blog post, we'll dive into the world of brown tiles, discussing their advantages and different types. We'll also offer tips on choosing the perfect size and shape, coordinating with other elements in your room, and providing examples of brown tile designs for different living room styles.
The Benefits of Brown Tiles
Brown tiles can transform your living room in many ways. Firstly, they're warm and inviting, adding a cozy and comfortable feel to any room. Secondly, they're easy to clean, making them an excellent choice for high-traffic areas. Thirdly, they're durable, lasting for years and standing up to wear and tear. Lastly, they're versatile, fitting any style or decor, from modern to rustic.
Types of Brown Tiles
There are various types to choose from when it comes to brown tiles. Natural stone tiles, such as travertine or slate, offer unique textures and natural variations that make them stand out. Ceramic tiles, on the other hand, are affordable and easy to install, coming in various colors and patterns. Lastly, porcelain tiles are strong and dense, ideal for high-traffic areas and can mimic the look of natural stone.
Choosing the Right Size and Shape
The size and shape of tiles can significantly impact your room. Large tiles can make a room appear more substantial, while smaller tiles add a sense of intimacy and detail. Rectangular or square tiles can create different patterns and effects on the floor. Consider the room's scale and the size of your furniture when selecting the size and shape of your tiles.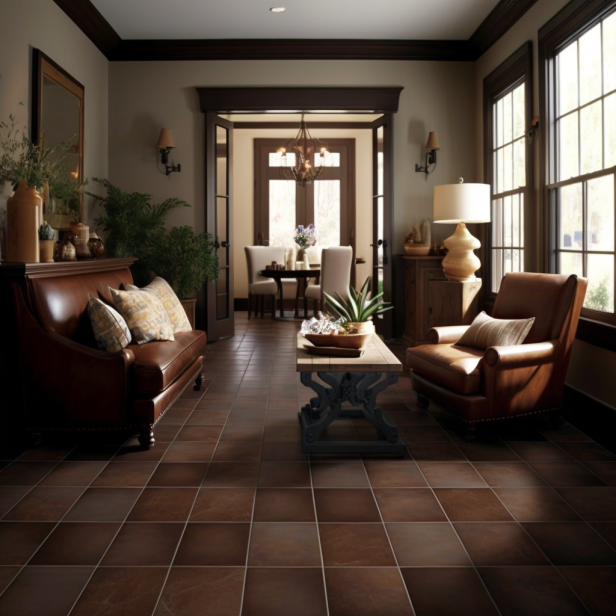 Coordinating with Other Elements
You must coordinate your tiles with other elements to achieve a cohesive look in your living room. Consider the color of your walls and furniture to create a seamless look. Add a pop of color or pattern with accent tiles or rugs. Remember to consider the style of your fireplace and other architectural features when choosing your tiles.
Brown Tile Designs for Various Living Room Styles
Different living room styles call for different tile designs. For a minimalist look, large, square porcelain tiles in a matte finish create a clean and simple look. Consider textured ceramic tiles in light and dark shades to add a touch of drama to a contemporary living room. If you're going for a rustic vibe, bring the outdoors in with natural stone tiles in earthy tones and rough edges.
Conclusion
Brown tiles are an excellent choice for your living room flooring, providing warmth, durability, and versatility. You can transform your living room into a beautiful and inviting space by choosing the right size and shape, coordinating with other elements, and selecting the best type of tile for your style. So, why not mix and match different brown tiles to create the perfect flooring for your style and budget? We would love your ideas and opinions on brown tiles in the comments below!